I have seen a lot of people doing this and i wanted to join in on the action. These are my favorite 10 layouts that i did last year and why. These are not really in any particular order. I would love to see other scrappers top 10 as well so link me up to your blogs!
For this one i love having pics of the kids together. Usually i am snapping photos of Maddie while Adam is at school so these older pics are nice. I also love the green background paper from Cosmo Cricket. Its one of my favs. So fun and bright
I love this one for the photo but also the simplicity. I didn't use much but i love the design
One of my all time favorites. I just love Maddie in this photo. I also love the large Prima flower i had been hoarding. And of course love the Bo Bunny. This was a favorite line this past year.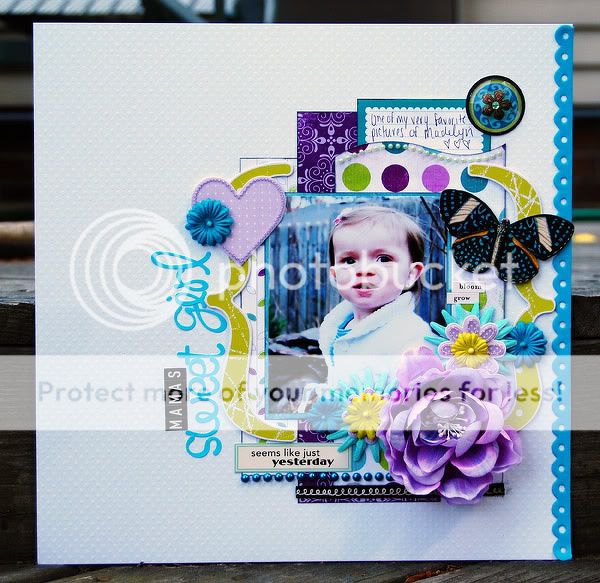 This one is a favorite for all the photos i used. It is not often i use this many.
I love the one photo of Maddie in this one where she is pointing. The title is inpired by Shrek. Love those movies!
Another four photo layout. Impressive for me..haha. I loved these goofy pics of Maddie and i love how the rub ons look over the bottom half.
I love this one because of the great Crate Paper Restoration line and because it won me a spot on the Creative Memories DT!
I love this 8.5x11 one. Another because of the pics of the kids. Also another favorite of mine this year are the My Little Bit of Whimsy clay embellishments. It is the cutest little ladybuy.
I loved this one for the MME paper. These were just gorgeous and full of glitter!
My most recent favorite. Loved the photo in this one and the large square doilies i found at Ben Franklin Crafts are just gorgeous. Yes i have a doily obsession.